Thank you to Vicky and Richard for sharing their inspirational story
Vicky, 31, who is a maths teacher in Huddersfield and her actor husband Richard, 42, welcomed their baby boy Lochlan in January 2018 following treatment at Jessop Fertility.
Vicky said, "We first started trying for a baby eight years ago, after a few years we went to the doctors to run some tests and were told that we had severe male fertility problems and would need IVF. We decided that we wanted to share our eggs so looked for clinics that offered this service and after doing some research, we chose Jessop Fertility. Right from speaking to someone on the phone I knew it was the best choice.
The egg collection was slightly uncomfortable but I knew it would all be worth it. When we went for the appointment we didn't know which option we would be going for, there was a possibility we might have to use a sperm donor but luckily they managed to get a good enough sample and we were lucky enough to become pregnant on the first attempt. We couldn't believe it but when we came in for our viability scan it all started to seem very real -even though Ric couldn't make out what he was looking at!
With every scan or appointment it became even more real and when we held Lochlan for the first time it was like our world was finally complete. We were previously told by doctors we had near enough 0% chance of conceiving naturally so we were happy that we finally had our little boy.
He is the cutest and most inquisitive little monkey I've ever met. Everyone comments on how advanced he is as he walks and talks and can't believe he has only just gone one.
However, something must have kicked started something as 4 months after Lochlan was born I found out I was pregnant again! We are currently awaiting the birth of our miracle Princess any day now. 3 years ago we didn't think we could have any children together and soon we will have two!
My care at Jessop Fertility was amazing, I could ring at any time and have questions answered and when we were there we felt really looked after. It was weird because I never thought I wouldn't be, I just got it into my head that it was going to work. My husband cried a lot and then we phoned family who all cried a lot too (which was funny as it was 5am).
My advice to people trying to get pregnant would be to never give up. It took us over 7 years to get our IVF miracle and he completed our world. We then gave up thinking about it and now we are expecting a miracle baby girl.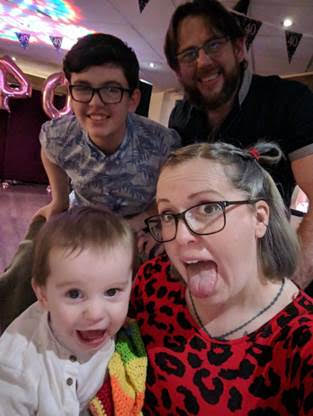 We have already helped to make
over 3,500 babies
Our research-led fertility treatment centre can help you...
Contact us
We'd love to answer any questions you may have. If you would like find out more please complete our contact form or send an email to sth.jessopfertilityadministration@nhs.net
Alternatively you can call us on: 0114 226 8050
Opening times: 
Monday to Friday: 8.00am - 5.00pm
Saturday: 8.00am - 3.30pm
Results Line: 
0114 2268066
Monday-Saturday 2.00pm - 3.30pm
The Jessop Wing
Tree Root Walk, Sheffield S10 2SF
Call 0114 226 8050
to talk to a member of our team