Preimplantation Genetic Testing (PGT-A) now available at Jessop Fertility
Jessop Fertility now provides Preimplantation Genetic Testing (PGT-A) which allows our embryologists to identify embryos that have the correct number of chromosomes at a very early stage. Cells from the embryo are assessed to give information about the embryos genetic health (whether they are euploid or aneuploid).
By using only those embryos that do not have chromosomal abnormalities the chances of IVF success is improved as we can chose embryo(s) that will be much more likely to implant and create a healthy pregnancy. It can also reduce the chance of a miscarriage.  Patients over 35 or patients who have had failed IVF treatment or miscarriages can benefit from this new advanced technology
If you feel your patient would be appropriate please refer through the e referral system to Infertility Clinic Jessop Wing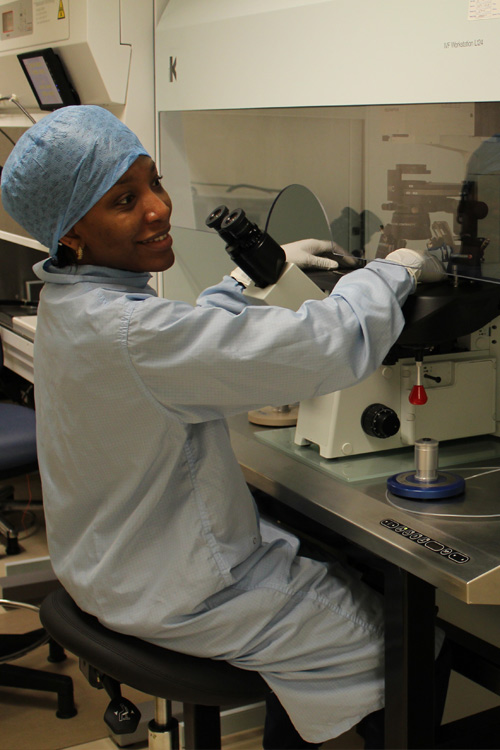 We have already helped to make
over 3,500 babies
Our research-led fertility treatment centre can help you...
Contact us
We'd love to answer any questions you may have. If you would like find out more please complete our contact form or send an email to sth.jessopfertilityadministration@nhs.net
Alternatively you can call us on: 0114 226 8050
Opening times: 
Monday to Friday: 8.00am - 5.00pm
Saturday: 8.00am - 3.30pm
Results Line: 
0114 2268066
Monday-Saturday 2.00pm - 3.30pm
The Jessop Wing
Tree Root Walk, Sheffield S10 2SF
Call 0114 226 8050
to talk to a member of our team