Thank you to Nina for sharing her story!
"We started our journey with Jessop Fertility back in 2014 after trying to get pregnant to get pregnant for 3 years, we went through many tests and started our treatment in September 2014. It was an emotional rollercoaster, constantly worrying if each stage of the treatment would be successful, but we put our full trust into the team.
At first we were going to have ICSI but after discussing our options we decided to go for IVF. Our embryologist collected six eggs which were then safely stored in the incubator once fertilised. We waited to see if one of the eggs reached the blastocyst stage before implanting to give me a higher chance of becoming pregnant. Luckily one did and so we went back for it to be implanted five days after egg collection.
On the 8th October 2014 (coincidently my birthday) we went for a blood test to see if the IVF had been successful. I remember that day well, I had convinced myself that it hadn't worked and decided to go straight back to work to take my mind off it. I got the phone call during the afternoon that day and all I can remember was a lovely woman telling me that I was pregnant and that my hormone levels were very high so the chances of this being a viable pregnancy were good. It was one of the happiest days of my life and definitely the best birthday present I have ever received.
I received consultant led care at the Jessop Wing hospital throughout my pregnancy and had many scans. The care I received was outstanding. My pregnancy was pretty straightforward right up until about 34 weeks when we were told our baby was footling breech (meaning he was facing the wrong way). I was monitored to see if he moved position but unfortunately he didn't and at about 36 weeks
I was admitted to Jessop Wing and I stayed there for 17 days in total. Our son Leo was born on the 8th June 2015 by planned C-Section weighing just over 8lb - the happiest day of my life. The care I received during those 17 days in hospital was amazing and the C-section went so smoothly, I was informed at every stage.
Thank you Jessop Fertility for making our dream come true and for giving us the most amazing little boy. He amazes us every day and will soon turn 4. We will be forever grateful to you."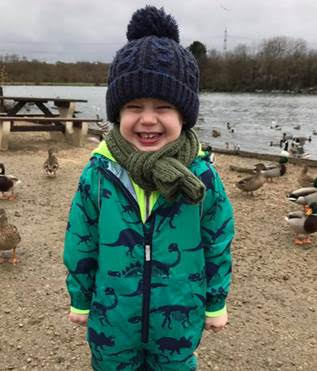 We have already helped to make
over 3,500 babies
Our research-led fertility treatment centre can help you...
Contact us
We'd love to answer any questions you may have. If you would like find out more please complete our contact form or send an email to sth.jessopfertilityadministration@nhs.net
Alternatively you can call us on: 0114 226 8050
Opening times: 
Monday to Friday: 8.00am - 5.00pm
Saturday: 8.00am - 3.30pm
Results Line: 
0114 2268066
Monday-Saturday 2.00pm - 3.30pm
The Jessop Wing
Tree Root Walk, Sheffield S10 2SF
Call 0114 226 8050
to talk to a member of our team