Nicola and Jo's Story
Globetrotting couple Nicola Minichiello and Jo Manning are the proud parents of seven month old twin boys, Zach and Freddie (born February 20th 2017), after having treatment at Jessop Fertility.
Nicola who is from Renishaw in Sheffield, said: "We spent 4 years all together on our journey through infertility. After initially trying at home with a known donor for just over a year we suspected that maybe there was a reason I wasn't getting pregnant. We were referred to have exploratory tests with Mr Skull at Jessop Fertility to determine if there were any issues. After scans, blood tests and a laparoscopy exploratory operation we discovered my tubes had been damaged by endometriosis so the chances of us conceiving with anything other than IVF was almost nil."
"From that point on we began our journey through IVF with Jessop Fertility. Our first cycle produced 5 blastocysts which we implanted one at a time, usually at 2/3 monthly intervals. Unfortunately despite having faith and great odds each time the cycles ended in disappointment with each one resulting in a negative test. We had almost decided not to try again however after some months to reflect and also with the support of Jessop Fertility staff we decided to have one more attempt. This time the cycle produced 7 blastocysts. We implanted 2 fresh blastocysts in July 2016 and 21 days later were excited to find out we were pregnant. This became even more exciting when at 6 weeks we spotted 2 heart beats!"
The pregnancy progressed well with both babies. Nicola carried them all over the world as part of her work managing the bobsleigh and skeleton races across different venues in America and Canada and Jo's work as Performance Director for the Jamaican Bobsleigh team.
Nicola said: "At 32 weeks I was put on bed rest and at 36 weeks our little miracles arrived, weighing in at 7lb 6 oz and 7 lb 1 oz. Despite IVF and infertility being one of the most emotional experiences of our lives the way the staff at Jessop Fertility supported us every step of the way was amazing.
It felt more like we were part of an extended family as opposed to having treatment at a medical facility. Especially for a same sex couple the process could have been really difficult however we felt respected and supported throughout. I can't recommend Jessop Fertility enough and thank everyone there for helping create the most amazing miracles ever. Everyone who worked there knew what was happening with our treatment, everyone has a friendly and personal attitude."
"At seven months, the boys are doing amazing. After waiting so long to get them it's just fantastic and amazing on a daily basis that they are now here. They are both totally different in both shape and personality but have developed amazing little characters."
"Our jobs mean we spend around five months per year travelling across the world leading and managing bobsleigh and skeleton teams in preparation for the Olympic games. This year the babies will travel with us."
"We are currently in pre-season training in Whistler training in preparation for the next Olympic games taking place in February 2018. Every year for the last 15 years we have trained and competed each winter for around 5 months however this year will be very different travelling with the babies. Yesterday they saw snow for the very first time which was amazing. Hopefully they will be inspired by seeing all of the Olympic athletes and will follow in their mummy's footsteps."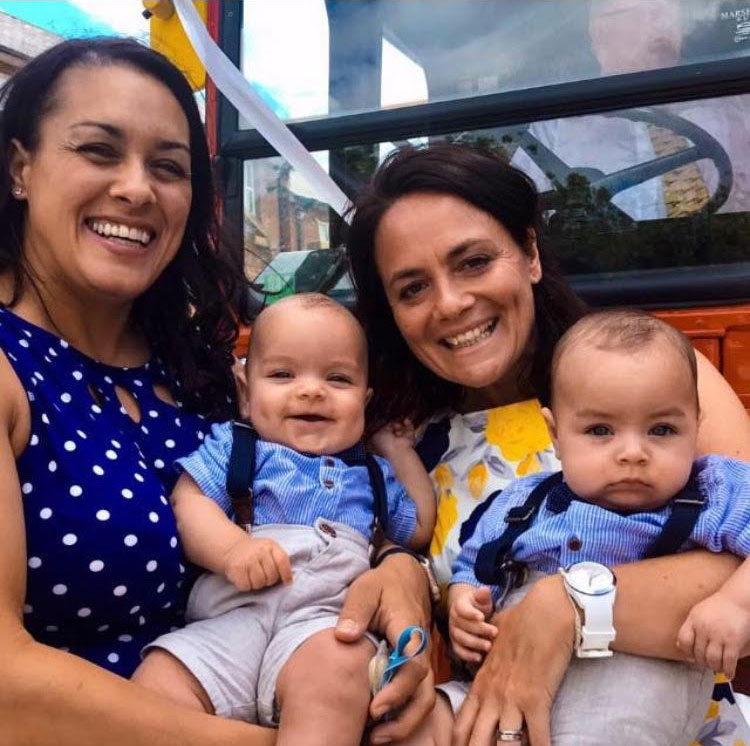 We have already helped to make
over 3,500 babies
Our research-led fertility treatment centre can help you...
Contact us
We'd love to answer any questions you may have. If you would like find out more please complete our contact form or send an email to sth.jessopfertilityadministration@nhs.net
Alternatively you can call us on: 0114 226 8050
Opening times: 
Monday to Friday: 8.00am - 5.00pm
Saturday: 8.00am - 3.30pm
Results Line: 
0114 2268066
Monday-Saturday 2.00pm - 3.30pm
The Jessop Wing
Tree Root Walk, Sheffield S10 2SF
Call 0114 226 8050
to talk to a member of our team