Huge thank you to Lindsay for sharing her wonderful story!
Lindsay, 37 who is a Financial Customer Advisor from Sheffield, gave birth to her baby girl Erin on the 24th of February 2019 following treatment from Jessop Fertility.
"I started my journey with Jessops in March 2016, I was in a same sex relationship and having a child was something we had dreamed about for a long time. We had no clue where to start but after a referral from my GP our journey started. Due to an auto immune illness things were slightly more complicated for me. We had a variety of appointments, different scans, blood tests and I had to make sure my auto immune illness was under control before we could attempt any treatment.
In June 2017 we were given the go ahead for our first IUI attempt, the excitement was beyond words. Unfortunately after the 2 week wait we discovered it had been unsuccessful. Jessops recommended counselling as part of our treatment so we had a couple of sessions which were fabulous and really helped us deal with the disappointment. I would definitely recommend these sessions to anyone going through fertility treatment.
In November 2017 we went through another round of IUI but again this was unsuccessful. It was heartbreaking, to pick up the pieces and start again really did take it toll. We decided to enjoy the Christmas period and discuss again early 2018. In January 2018 we had an appointment with our fertility nurse Debinse and consultant where we discussed other options available including IVF. We decided IVF would give us a higher chance of success.
In June 2018 I started my daily injections, my hormones were all over the place. In the 19th June I had 8 eggs collected which was fantastic, on the way home we received a phone call from Jessops telling us our donor sperm wasn't strong enough for IVF and our only option was to opt for ICSI treatment. We decided to go ahead and over the next few days 4 of my eggs were fertilised. Jessops kept us updated each day which was amazing and on the 23rd June 2018 we went back into Jessops and had 1 embryo placed back inside.
Next came the dreaded 2 week wait, and on the 3rd July 2018 we made that phone call at 2pm to be told our treatment had been successful. I was finally pregnant and due in March 2019. We went back for a 6 week scan on the 23rd July and saw our baby's heartbeat for the first time. Absolutely amazing.
I have been consultant lead throughout my pregnancy and have been lucky enough to have monthly growth scans. I've had a perfect pregnancy, and the most amazing care from Jessops Fertility. I sit here writing this holding my baby girl Erin Raye Benison who arrived on the 24th February, weighing 7lb 4oz.
I cannot thank the team at Jessop Fertility enough, you made my dream come true.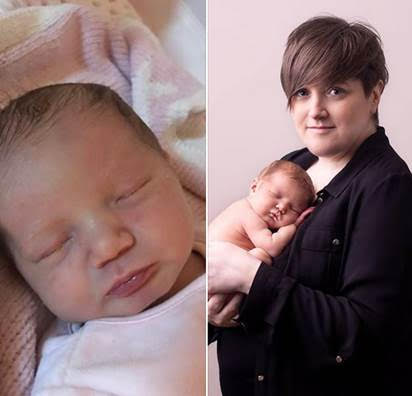 We have already helped to make
over 3,500 babies
Our research-led fertility treatment centre can help you...
Contact us
We'd love to answer any questions you may have. If you would like find out more please complete our contact form or send an email to sth.jessopfertilityadministration@nhs.net
Alternatively you can call us on: 0114 226 8050
Opening times: 
Monday to Friday: 8.00am - 5.00pm
Saturday: 8.00am - 3.30pm
Results Line: 
0114 2268066
Monday-Saturday 2.00pm - 3.30pm
The Jessop Wing
Tree Root Walk, Sheffield S10 2SF
Call 0114 226 8050
to talk to a member of our team